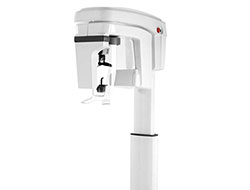 Carestream CBCT Imaging
Using the most advanced dental technology possible is just as important as staying up-to-date on the latest treatment techniques. Because our practice is dedicated to providing you with the safest and most convenient endodontic treatment options available, we are proud to use Carestream Cone Beam Computer Tomography (CBCT) imaging technology.
Carestream CBCT is a digital, 3D imaging system that allows your doctor to provide quick, comfortable, and effective dental imaging for precise diagnosis, treatment planning, and the evaluation of certain conditions. The data gathered is used to reconstruct a 3D image of your anatomy: dental (teeth); oral and maxillofacial region (mouth, jaw, and neck); and ears, nose, and throat (ENT).
You can take advantage of a more accurate, comfortable endodontic treatment with CBCT imaging. Special features for patients include:
A scan that takes less than a minute but provides enough data for a complete diagnosis
A safer diagnosis with less radiation than traditional CT scanners
Increased comfort: you are seated in an open environment with plenty of space
A more cost-effective imaging system
Data is easily shared, so you can stay informed and be able to make educated decisions on your course of treatment
Our office is pleased to offer Carestream CBCT imaging. Come and see for yourself what it's like to receive a more advanced, patient-friendly endodontic experience.

EdgePRO Radiance Technology System
EdgePro offers the most advanced laser-assisted endodontic technology available for root canal treatment. EdgePRO lights the way to a pristine clean with laser-focused precision to help your endodontist remove the bacteria and biological debris from complex anatomy that is creating the source of your pain1 while preserving healthy tooth structure. Many EdgePRO patients report a positive in-procedure experience & post-procedure comfort.
EdgePRO laser-assisted endodontic technology supports conservative endodontic access and optimal patient outcomes by generating water-seeking rays of light that reach into complex anatomy for a deep canal clean to help remove up to 99% of the bacteria commonly found in the root canal system.
PerioLase® (LANAP)
Safe and Effective Gum Tissue Restoration.
From the simplest of procedures to the most complex, we are dedicated to your comfort. Our goal is to offer a wide array of gentle treatments that promote healthy teeth and gums in a way that feels good for you, our patient.
What is PerioLase LANAP?
PerioLase Laser Assisted New Attachment Procedure (LANAP) is the latest technology used by your dentist for safe and effective gum tissue restoration and periodontal tissue therapy. In 2004, PerioLase received FDA approval, becoming the only approved dental laser on the market.
Differing greatly from traditional periodontal surgery, PerioLase creates a sterile and stable environment where bone and tissue are able to grow back together. If you have periodontitis, you know that your gums (or connective tissue) pull away from the tooth, creating pockets. The pockets become deeper as the disease progresses, causing bone loss.
Traditional perio-therapy involves your doctor scraping out the inside of the pockets, trying to avoid bone loss since the infected bone will no longer grow back. Using PerioLase, your dentist is able to create an environment where your body can regenerate itself. Your gums will reattach to the tooth; in fact, it is proven that PerioLase is the only laser to have a 100% success rate in tissue reconstruction.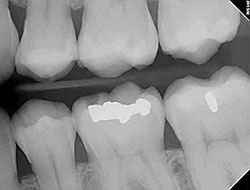 Digital X-rays
Using the most advanced technology possible is just as important as staying up-to-date on the latest treatment techniques. Because our practice is dedicated to providing you with the safest and most convenient treatment options available, we utilize advanced digital X-ray technology in our office.
Digital X-rays provide several advanced imaging options designed to save time, provide clearer dental photos, and expose patients to less radiation than traditional X-ray technology.
Our practice is focused on making your dental experience as comfortable as possible. At your next appointment, we'll be happy to answer any questions you may have.
Dental Operating Microscope
A dental operating microscope enhances and facilitates all phases of endodontic surgery by magnifying the soft and hard tissue, making even the smallest piece of tooth or gum clearly visible. This allows your endodontist to diagnose problems in the earlier stages of a disease process, perform procedures at a greater level of precision, and reduce the need for retreatment.
Benefits of Dental Operating Microscopes
Improved View: Dental operating microscopes make minute details and fine structures clearly visible, enabling your endodontist to visualize high-contrast and natural images. Better vision is the key to improving the quality of the examination and the treatment. The illumination puts light where it is needed. Even root canals are illuminated and magnified.
Improved Imaging: A picture is worth a thousand words. Images captured using a dental operating microscope during an examination are an excellent communication and education tool in helping you to better understand your diagnosis and why certain treatments may be necessary. It facilitates a step-by-step explanation which creates a high level of trust between you and your endodontist. After all, seeing is believing. Our use of a dental operating microscope is just one part of our commitment to providing you with the highest level of endodontic care and the best, longest-lasting results.